Saturn Chat Tonight at 9pm
Tags:
I wanted to post a quick reminder that I'll be in the SaturnFans Chat Room between 9-10pm EDT tonight. I'll be taking questions all night. And I'd like to get some feedback from you all too. For instance, was the Reunion worth the effort to put together? Also, I've worked up a couple different concepts for next-gen SaturnFans.com websites, but I am not sure with the direction I want to take the site in the coming years. What would you like to see in the SF of the future? Let's talk more at 9. Hope to see you there!
Random Article from the SaturnFans.com Archives
Tags: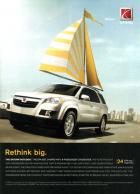 I don't know when I started receiving "Dwell" magazine, and I don't know why. Neither my wife nor I can recall subscribing to it, but its been showing up in our mailbox every month. I'm guessing it was a gift, but I feel bad for not remembering who might have given me the subscription. Maybe I was on a mailing list and I'm now "test driving" the magazine for free for a few months...