Merry Christmas from SaturnFans.com!
Tags: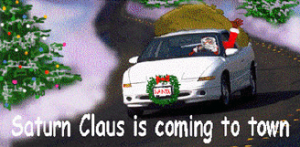 I just wanted to post a quick note wishing everyone a Merry Christmas! I hope "Saturn Claus" is good to everyone this year! The holiday greeting above was sent to me many, many years ago from a Car Club in Texas. Yes, Santa really is a Saturn fan! Betcha didn't know he's got a specially modified white SC2 "sled" he uses when he's afraid of getting dents and dings in his other big red sled...
Have a happy, healthy, and safe holiday season!
And have a very Merry Christmas,
Charlie
Random Article from the SaturnFans.com Archives
Chevrolet and Cadillac have been getting a lot of press lately as GM's mass-market brands for mainstream and luxury vehicles, respectively. That's left folks with a lot of questions about the other brands situated in the middle of GM's portfolio. You might have even been asking yourself: is there a plan being executed here, or is a GM making things up as it goes along?