Follow SaturnFans.com on Twitter
Tags: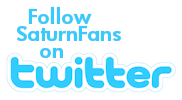 Saturn fans have long been able to remotely keep up with the latest Saturn news, reviews, and rumors from anywhere in the world via our front page RSS feed, and today I'm happy to formally introduce a brand new way to stay connected with what's going inside the world of Saturn by following SaturnFans.com on Twitter!
If you're not familiar, Twitter is a social networking site of sorts that offers a free service which lets you keep in touch with people through the exchange of quick, frequent answers to one simple question: what are you doing? You can receive Twitter updates from those folks who you want to follow (like SaturnFans) on the Web, your desktop, cell phone, or instant messaging client. If you join the SaturnFans.com feed on Twitter, you'll be continuously updated with links to the newest stories posted on the site's front page.
Admittedly, I am very new to the Twitter scene, but I've read and learned a lot about how the service works over the past few weeks while tinkering with the SaturnFans.com Twitter feed. So check it out! All you have to do is sign up for a Twitter account. If you have any questions, post them here. I can't promise to be able to answer all of them, but I'm sure that there are lots of Twitter experts around here who would be happy to help you out.
Enjoy!
Random Article from the SaturnFans.com Archives
Tags:
Unprecedented discounts on the last remaining Saturns present an enticing case to anyone in the market for a new car, especially if you're a Saturn owner. Al Clapsaddle, senior sales consultant at Saturn/West in Ohio, sent me an intriguing e-mail the other day detailing the laundry list of incentives available until November 30 — some of which are over and above those that were advertised nationally at the beginning of the month.