Aerial Coverage of the 2012 Saturn Reunion Provided by a Stuffed Replica of the Saturn Lightship Blimp?
Tags: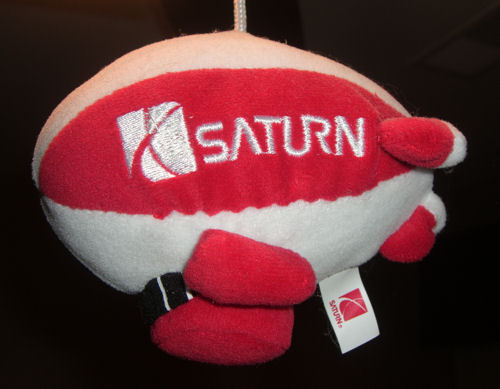 Circling high above SaturnFans.com World Headquarters (that is, my desk) is a stuffed replica of the Saturn Lightship. If it was a little bit larger (this plush blimp is only about 5 inches long) and able to fly through the air (it just hangs from a ceiling fan fixture by a piece of string) it might be able to provide a live video feed of me sitting in front of my PC feverishly typing Saturn updates for the next 24 hours. But, alas, you'll have to make due with text- and image-based updates to the SaturnFans.com home page this year. Maybe next time.
Random Article from the SaturnFans.com Archives
Saturn posted a brief overview on its ImSaturn website last week previewing the "significant" changes for '09. Here are a few highlights we can look forward to seeing in the coming weeks and months.