Aerial Coverage of the 2012 Saturn Reunion Provided by a Stuffed Replica of the Saturn Lightship Blimp?
Tags: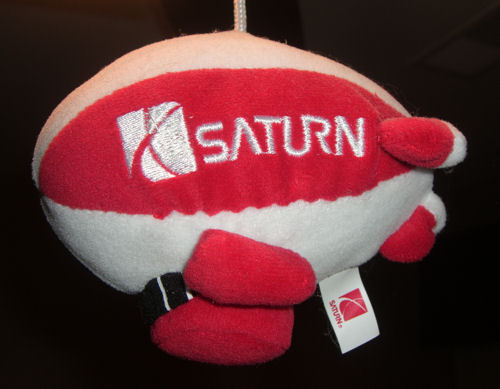 Circling high above SaturnFans.com World Headquarters (that is, my desk) is a stuffed replica of the Saturn Lightship. If it was a little bit larger (this plush blimp is only about 5 inches long) and able to fly through the air (it just hangs from a ceiling fan fixture by a piece of string) it might be able to provide a live video feed of me sitting in front of my PC feverishly typing Saturn updates for the next 24 hours. But, alas, you'll have to make due with text- and image-based updates to the SaturnFans.com home page this year. Maybe next time.
Random Article from the SaturnFans.com Archives
Yesterday General Motors announced its "GM 100th Anniversary Sales Event," offering customers employee pricing on virtually its entire lineup of in stock and remaining 2008 model year vehicles - including Saturns. The sale will run from August 20 through September 2, 2008. In addition to the special pricing, sources tell SaturnFans.com that Saturn plans to offer cashback bonus incentives on top of the discounted employee pricing.