Aerial Coverage of the 2012 Saturn Reunion Provided by a Stuffed Replica of the Saturn Lightship Blimp?
Tags: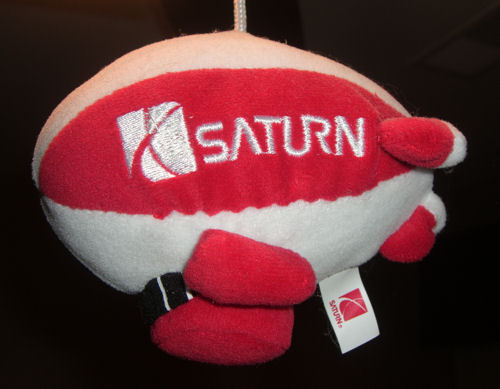 Circling high above SaturnFans.com World Headquarters (that is, my desk) is a stuffed replica of the Saturn Lightship. If it was a little bit larger (this plush blimp is only about 5 inches long) and able to fly through the air (it just hangs from a ceiling fan fixture by a piece of string) it might be able to provide a live video feed of me sitting in front of my PC feverishly typing Saturn updates for the next 24 hours. But, alas, you'll have to make due with text- and image-based updates to the SaturnFans.com home page this year. Maybe next time.
Random Article from the SaturnFans.com Archives
Tags:
David Thomas from Cars.com Kicking Tires: If you think domestic automakers are only hitting up U.S. taxpayers for help, go north of the border. Canada's National Post newspaper reported today that General Motors is asking the Canadian government for $2.4 billion in aid. In exchange, it promises to bring a new Buick model — the Regal, which is already sold in China — to its Ontario plant for North American distribution. GM says it will position the Regal to compete with the Toyota Camry and Honda Accord, but doesn't say what its new LaCrosse — set to debut in Detroit next month — will be positioned against.