Aerial Coverage of the 2012 Saturn Reunion Provided by a Stuffed Replica of the Saturn Lightship Blimp?
Tags: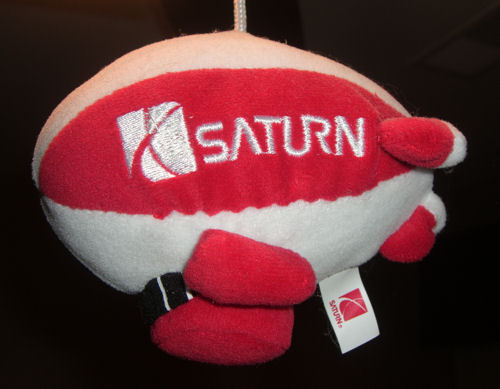 Circling high above SaturnFans.com World Headquarters (that is, my desk) is a stuffed replica of the Saturn Lightship. If it was a little bit larger (this plush blimp is only about 5 inches long) and able to fly through the air (it just hangs from a ceiling fan fixture by a piece of string) it might be able to provide a live video feed of me sitting in front of my PC feverishly typing Saturn updates for the next 24 hours. But, alas, you'll have to make due with text- and image-based updates to the SaturnFans.com home page this year. Maybe next time.
Random Article from the SaturnFans.com Archives
Tags:
It's pending arrival has been rumored for several weeks, but now it is official: Saturn recently announced the availability of a new 2.4L version of it's uplevel Vue XR sport-utility on the brand's ImSaturn social networking website. Spokesman Mike Morrissey revealed some of the features that will be offered in the vehicle. "At Saturn, we don't think you should not have to give up cool vehicle features just to save money at the gas pump," he wrote. "That's why we are introducing a new version of the well-equipped Vue XR with an efficient four-cylinder engine."