Aerial Coverage of the 2012 Saturn Reunion Provided by a Stuffed Replica of the Saturn Lightship Blimp?
Tags: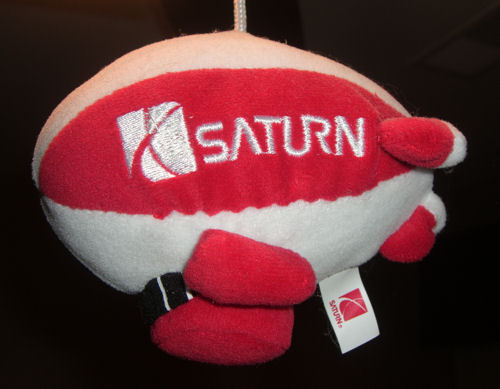 Circling high above SaturnFans.com World Headquarters (that is, my desk) is a stuffed replica of the Saturn Lightship. If it was a little bit larger (this plush blimp is only about 5 inches long) and able to fly through the air (it just hangs from a ceiling fan fixture by a piece of string) it might be able to provide a live video feed of me sitting in front of my PC feverishly typing Saturn updates for the next 24 hours. But, alas, you'll have to make due with text- and image-based updates to the SaturnFans.com home page this year. Maybe next time.
Random Article from the SaturnFans.com Archives
Tags:
It seemed fitting that on the day members of the automotive media were invited to San Diego to drive the new Saturn Astra for the first time on North American soil, the southern California city was bracing for some of the biggest waves it's seen in years. Saturn, coincidentally, is hoping to make some waves of its own as it gears up to launch its all-new Astra small car.