Aerial Coverage of the 2012 Saturn Reunion Provided by a Stuffed Replica of the Saturn Lightship Blimp?
Tags: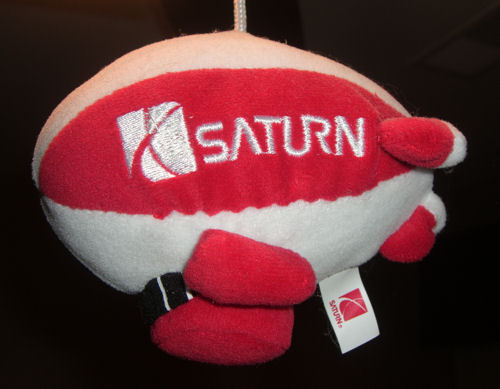 Circling high above SaturnFans.com World Headquarters (that is, my desk) is a stuffed replica of the Saturn Lightship. If it was a little bit larger (this plush blimp is only about 5 inches long) and able to fly through the air (it just hangs from a ceiling fan fixture by a piece of string) it might be able to provide a live video feed of me sitting in front of my PC feverishly typing Saturn updates for the next 24 hours. But, alas, you'll have to make due with text- and image-based updates to the SaturnFans.com home page this year. Maybe next time.
Random Article from the SaturnFans.com Archives
Tags:
The Car Connection posted a different kind of review, mixing comments from different major auto magazines, websites, and blogs with their own. Overall, they liked the Astra's styling, standard and optional features, safety, comfort, quality, and performance. "The 2008 Saturn Astra is no speed demon," wrote the site, "but the taut suspension makes whipping the car through turns a true joy."